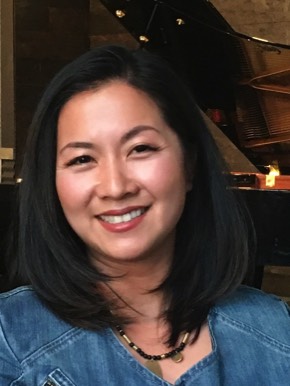 Greetings OCN Members!
Another year is upon us! For many of us, the pandemic has forced all of us to re-evaluate our lives causing many changes in our relationships, lifestyle, and careers. With all the uncertainties in life, one thing our OCN family can count on is our commitment to do what is best for our members and students.
As the world gradually returns back to normal, OCN is also adapting to the change by offering live performance opportunities for our students, starting with the Piano Solo Competition in September coordinated by Iryna Mikulich and Tamara Matchkhaneli. They gave all of our students the opportunity to perform and a welcoming and safe environment.
Next, we are excited to introduce a brand new Branch-level in-person evaluation, STEP! Sight-reading, Theory, Ear-training, Performance is headed by our very own Teri Watson. Teri and the STEP committee has been working diligently in creating this in-person evaluation with the intent to provide the best music education for our students. I highly encourage our members and students to participate in our upcoming live events. The health and safety of our members and families is and always will be our priority. Therefore, much precaution and planning goes into all of our live programs. In order to continue to provide these live performance opportunities for our students, I want to thank you all in advance for your patience and cooperation.
I look forward to meeting all of you, new and veteran members, in the near future. Please check out our upcoming programs in the new year. We have wonderful opportunities planned for you and your student.
Have a musical 2022!
Christine Oates
9:00 a.m.
Board Meeting

10:00 a.m.
General Meeting

10:30 a.m.
Program
Featuring Dr. Louise Thomas
"Beyond the Waldstein"
Pianist Louise Thomas has concertized extensively throughout Europe, North America, and Asia at such concert venues as the Tchaikovsky Conservatoire in Moscow; the Forbidden City Concert Hall in Beijing; Walt Disney Concert Hall in Los Angeles and Weill Hall in New York City.

Born in Ireland, Louise Thomas completed undergraduate music studies at Trinity College, Dublin. She received a German Government scholarship to continue piano performance studies at the Hochschule für Musik und Theater in Hannover, Germany and thereafter completed a doctorate in piano performance at the University of Southern California in Los Angeles.

Dr. Thomas joined Chapman University in 2001 as Director of Keyboard Collaborative Arts. In June 2014, she was named Associate Dean for Academic Affairs in Chapman's College of Performing Arts. She concertizes with violinist Elizabeth Pitcairn, who performs on the "Red Mendelssohn" Stradivarius. She also appears regularly on chamber music and contemporary music programs throughout the US and internationally.
MTAC Orange County North Board
President: Christine Lin Oates
1st Vice-President: open
2nd Vice-President: Susan Kim-Pedroza
Treasurer: Mary Joy
Recording Secretary: Bobbi Pappas
Corresponding Secretary: Teri Watson
Membership Secretary: Michelle Chiang
Director: Ani Nuyujukian
Director: Luminita Emilia Ologeanu
Director: Teri Watson
Director: Esther Yune
2002-2004 - Nancy Plourde
2004-2005 - Catherine DeRenzis
2005-2008 - Ethan Dong
2008-2010 - Mary Joy
2010-2012 - Antonina Gershfeld
2012-2014 - Lusine Shahinyan
2014-2016 - Joane Grubaugh
2016-2018 - Celeste Hassler
2018-2021 - Ani Nuyujukian